Adjuvant Systems - our offering

Discover the right adjuvant system
Croda Pharma is an industry leader in vaccine adjuvants, high purity excipients, and lipids for delivery systems.
Leveraging over 80 years of expertise, our scientists collaborate with vaccine manufacturers to tailor and create the novel adjuvants of tomorrow. Meanwhile, our GMP portfolio offers established high-performance adjuvants, to support your vaccine needs, today.
We are passionately developing new adjuvant technologies and partnering to develop the vaccines of tomorrow.
Your adjuvant development partner
The next generation of vaccines are only possible if we unlock new adjuvant options. Croda Pharma supports you in developing tailored adjuvant systems to serve the diverse needs of your vaccines. We enable next generation development through a diverse portfolio of world-leading adjuvants, immunomodulators and adjuvant formulations.
We collaborate with world leading universities and institutions to turn their novel technologies for vaccines into real commercial and GMP products.
A history of supporting vaccines
To this day, our core competencies are to develop, manufacture and market high-quality adjuvants and be a dedicated and reliable partner for our customers. This unique historical focus has made us a trusted leader with brands such as, Alhydrogel™, Adju-Phos™ and Quil-A™ ,which are widely recognised in the vaccine industry.
Addressing the challenges of vaccine formulation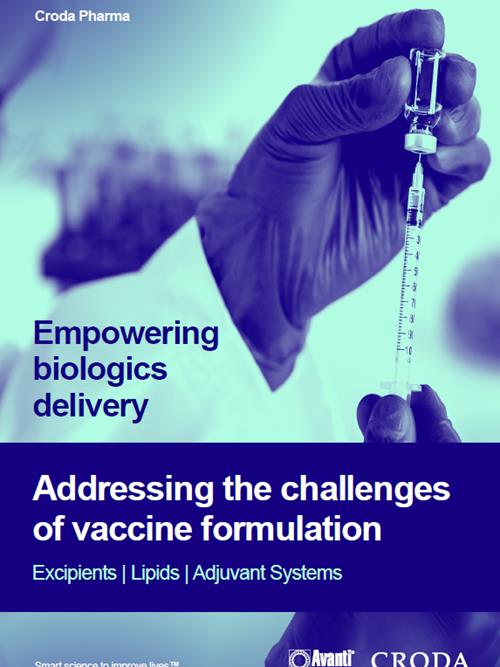 LIVE WEBINAR: Unlocking novel vaccines of the future
Sign me up!
Your adjuvant systems development partner
Extensive expertise in immunology and formulation of adjuvant systems, providing quality and support through research and development.
A diverse and strong portfolio with mineral adjuvants, saponins, glycolipids and nanoparticle delivery systems such as liposomes, enabling vaccine development against a wide range of bacterial and viral pathogens.
Highest production standards and vast experience in cGMP manufacturing.
Discover CAF® - Cationic Adjuvant Formulations
Unlock easier formulation, better stability, and broader pathogen targets.

The CAF range offers opportunities for new prophylactic and therapeutic vaccines.

Croda Pharma has entered a strategic collaboration with the renowned Statens Serum Institut in Denmark. We will exclusively manufacture and commercialise CAF01 and CAF09b, patented adjuvant formulations which are in clinical development.

Talk to us to understand how CAF could make a difference to your development.
Croda Pharma is continuously increasing its offering in innovative vaccine adjuvant systems and the strategic collaboration with SSI enables Croda to offer a new alternative to traditional aluminium-based adjuvants. This will provide new opportunities for the development of vaccines for diseases where effective vaccines have been unable to be developed, as well as more effective preventative and therapeutic vaccines for a range of diseases.
Unsurpassed Expertise
Developing and manufacturing vaccines is not a trivial task. We possess the highest level of expertise in adjuvants, which we will bring to the table and adapt to your needs.
We are a team of experts in manufacturing adjuvants who are dedicated to adding value to your business.
We understand the need for new adjuvant technologies in modern vaccines. We continuously strive to improve. Our R&D group develops the next generation of adjuvants and shares our knowledge with vaccinologists to facilitate effective vaccine design.
Consistent high quality
We are the only company to manufacture sterile adjuvants produced by an aseptic process.
Our adjuvants are manufactured according to GMP EudraLex Volume 4.
We strive to continually improve our Quality Management System through established metrics.
Dedication
We have been a key player in developing adjuvants and making them available since 1939
We are proud of more than 680 peer-reviewed publications involving our adjuvants and roughly 23,000 scientific hits on Google Scholar
We are committed to developing our expertise and portfolio of products and services for the benefit of our customers
View our vaccine adjuvants portfolio