Introducing our Adjuvant Systems Platform
Our next instalment of the Croda Pharma blog looks at our Adjuvant Systems platform. Keep reading to learn more about how we can support both your current and future needs for vaccine formulations.

Addressing the challenges of vaccine formulation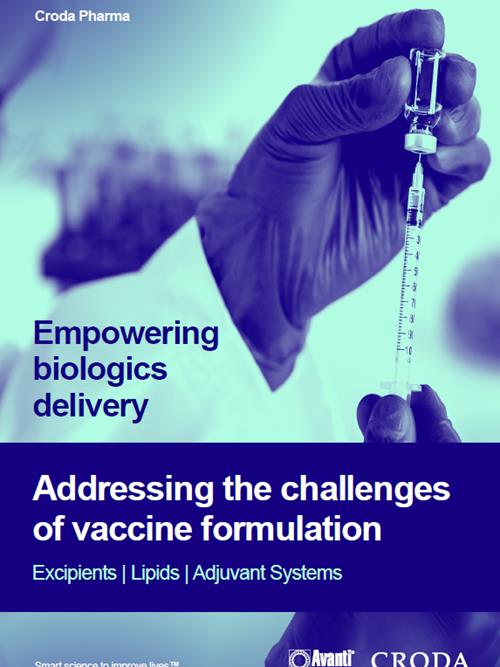 Leveraging a history of developing adjuvants since 1939, we pride ourselves in being an innovative and reliable partner for our customers. For this reason, we are a trusted leader with widely recognised brands in the vaccine industry, such as Alhydrogel
™
, Adju-Phos
™
and Quil-A
™
.

Your trusted adjuvant partner, today and tomorrow

With over 80 years of experience our scientists deliver high quality adjuvants to meet your vaccine formulation needs today. Beyond today we want to meet your formulation needs of the future. Our extensive expertise in immunology and formulation of adjuvant systems means we can partner with you to develop the next generation of vaccines, adapting to your requirements. We use our manufacturing experience to turn novel technologies into commercial GMP products, driven by our purpose to use 'smart science to improve lives™'
Our adjuvant portfolio
We offer a diverse portfolio
of technologies at the highest of production standards. With extensive experience in cGMP manufacturing, we manufacture high quality mineral adjuvants, and saponins. We are constantly working to expand our adjuvant offering to meet market needs and enable the fight against pathogens and enable the development of modern therapeutic vaccines also.
Our adjuvant development pipeline - Cationic Adjuvant Formulation CAF®
Our adjuvant offering has expanded to offer two CAF adjuvants CAF01 and CAF09b, both showing promise for use in novel vaccines in early life and cancer immunotherapy trials respectively. If you would like to learn more about CAF or any of our other adjuvant offering contact us here.
This pipeline technology, CAF®, aims to address the weak cell mediated immunity response induced by vaccine antigens. The CAF technology platform is range of new, patented cell mediated immunity inducing cationic liposomal adjuvants.
The CAF range has a number of benefits including:
- Ensure a strong co-localisation between the antigen and adjuvant – key for inducing T-cell immunity
- Prolonged exposure of the antigen to the immune system – improving the memory profiles of the induced immunity
- Initial activation of the immune system is very localised to the injection site – reducing systemic side effects associated with vaccinations e.g. fever and system pain
If you would like to learn more about immunostimulation and where adjuvant technology is headed listen to our webinar with Dr. Dennis Christensen on demand here.