Introducing our veterinary health offering 
We are Croda Pharma's veterinary health team, and we are here to innovate with you! As a part of Croda, we use Smart science to improve lives™, developing technologies for the health of animals. We are a global partner for high purity excipients, lipids, and innovative and cGMP Adjuvant Systems. Our teams are innovating to provide break-through solutions and technologies for key pharmaceutical industry challenges and providing formulation support along the way.
In this blog post, we invite you to learn more about our veterinary health offering and what we can do for you.
What do we do for our veterinary health partners?
We are focused on tackling our customers greatest formulation challenges with our outstanding range of high purity and Super Refined™ excipients, and Adjuvant Systems. Our veterinary health teams work with all of our technology platforms to support our customers in building their drug delivery systems. Whether you are formulating with small molecule actives, biologics (from proteins to nucleic acids) or different administration routes, you will be able to develop higher-value products thanks to our superior ingredients and our technical expertise.

Working in close partnership with our customer's R&D departments, we offer our technical and analytical expertise, and our innovation capacity to help you differentiate from competition and increase your value.
Accelerate your development: Our high purity and Super Refined™ excipients can ensure your products and solutions are highly stable

and

less susceptible to degradation
Innovative and more efficient vaccines thanks to our GMP adjuvant systems available today and the development of novel adjuvant options to help you target challenging and new animal diseases of the future.
Improve the solubility of poorly soluble APIs, thanks to our emulsion knowledge and technology
Better palatability and acceptance for your companion animal oral applications, thanks to our very low impurity profile in our high pure and Super Refined™ products
Superior spreadability and permeability of your topical products, meaning a higher delivery of your actives in your spot-on or pour-on applications
Having trouble developing injectable products? We've helped our customers improve their syringeability and develop better injectable products, thanks to our technical experts and specialist excipients
Added value through superior quality and commitment to the environment and well-being, due to reduced toxicity profiles and our commitment to sustainability.
How do we positively impact sustainability?
In line with the SDGs and One Health, sustainability plays a key role within our veterinary health area. Improving health and well-being of meat-producing animals is a crucial tool for optimizing resources and reducing waste: healthy animals grow more efficiently, have higher survival ratios, and use less resources. With growing protein demand and given the earth's limited resources, animal health and well-being remain a major contributor to feeding the world in a sustainable way.
Furthermore, Croda is on a journey of continually transforming processes and operations to be fully sustainable and is committed to reducing emissions and become a net zero company by 2050.
Explore our Veterinary portfolio here
2 items available
A versatile immunostimulatory saponin that's widely used as a potent veterinary adjuvant, Quil-A can work against both intra- and extra-cellular pathogens, stimulating innate and Th-mediated adaptive immune...

Well-established as a common component in a variety of vaccines, Adju-Phos is an aluminium-based adjuvant that induces strong Th2 immune responses.
To summarise, Croda Pharma is the best partner to level up your current veterinary health products or develop superior, ground-breaking new products and technologies. Unlock your full potential by optimising your resources and differentiating your products in the market by formulating with our high-quality excipients, and Adjuvant Systems.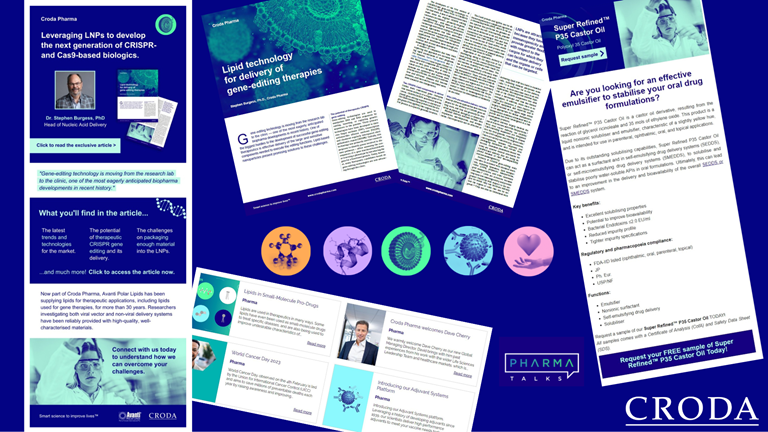 Lets connect...
Register to the mailing list to unlock:
First access to new products, new data and exclusive literature
Whitepapers and thought provoking content
Special offers on conference and exhibition passes when available
Invitations to invite only Croda Pharma events.
Sign me up!