Super Refined™ excipients for topical drug delivery
Common issues affecting topical formulation include active pharmaceutical ingredient (API) instability, poor API solubilisation, and skin irritation that can lead to reduced patient compliance. Our Super Refined excipients address these formulation concerns and maximise the value of your topical drug product.
High purity excipients for topical drug delivery
Our proprietary Super Refining process yields highly purified excipients that can maximise drug product value and are indicated to stabilise, solubilise and optimise the active ingredients in the formulation.
Maximising API stability
To demonstrate enhanced API stability, we monitored the percentage of the API lidocaine that could be recovered over time when incorporated into Super Refined Crodamol™ OO (oleyl oleate) versus standard compendial oleyl oleate. It can be seen that lidocaine maintains its integrity and stability far better in Super Refined Crodamol OO, with significantly less API being recovered from standard compendial grade oleyl oleate.
Maximising oxidative stability
To demonstrate oxidative stability, the peroxide value of Super Refined Crodamol OO was compared to standard compendial grade oleyl oleate over a 40 day study in accelerated ageing temperatures. It was noted that the Super Refined excipient maintained a low peroxide value while the standard compendial grade exhibited an approximate 70-fold increase in peroxide value, indicating that it has undergone significant primary oxidation.
Super Refined™ pharmaceutical excipients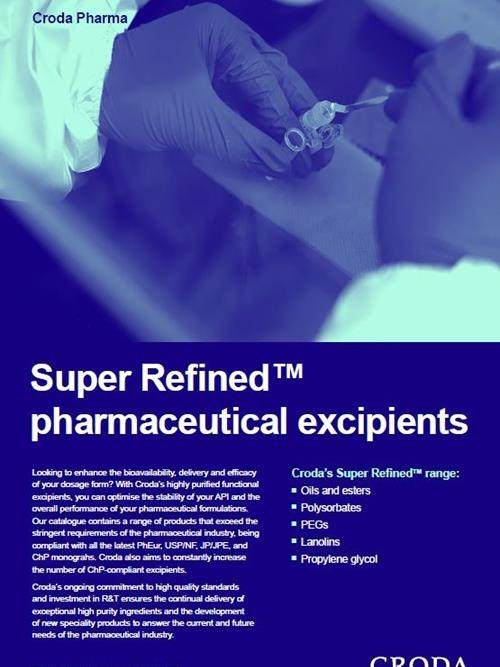 Your partner for topical formulations
The efficacy of our dermatological ingredients is demonstrated by clinical studies across a range of therapies including skin hydration and barrier repair applications, emollient therapy and wound healing.
Eczema
Eczema is a group of inflammatory skin disorders characterised by itchiness, dryness, scaling, sensitivity, cracking, and inflammation. Our dermatological solutions are designed to address these symptoms in a range of convenient formulations.
Our star excipient: Medilan™ (Wool Fat PhEur; Modified Lanolin NF), approved by the British Skin Foundation
Replenishes the skin's essential lipids
Repairs the natural skin barrier to reduce transepidermal water loss
Excellent skin hydration properties
Provides long lasting emollience.

Highly purified medical grade lanolin, with clinically proven safety and efficacy, designed for the treatment of severely compromised skin conditions. Long-lasting emollient, moisturiser and skin...
Psoriasis
Psoriasis typically presents as raised red, flaky, crusty patches of skin covered with silvery scales that can be itchy and sore. Topical psoriasis formulations are intended for long term patient use and are tailored to the different areas of the body on which psoriasis can occur, eg shampoos for scalp psoriasis and emollient sticks for convenient spot application during the day.

Our star excipient: Crodamol ISIS™ (Isostearyl Isostearate)
Substantive, non-occlusive emollient
Works with the lipids in the skin to achieve optimum hydration and moisturisation, outperforming artificial occlusion with petrolatum.

DMF ready, this substantive non-occlusive emollient provides superior moisturisation to the skin. It has been shown to synergistically improve the skin's natural barrier function, boosting the...
Acne
Formulating acne products requires light, non-occlusive ingredients to soothe inflamed skin, optimise the performance of anti-acne actives and encourage repeat use of the product.
Our star excipient: Super Refined™ Arlasolve™ DMI (Dimethyl Isosorbide)
High purity, clear liquid epidermal penetration enhancer
Excellent solubiliser
Improves formulation and API stability
Enhances spreading properties.

High purity liquid for use with poorly soluble hydrophilic and hydrophobic actives. Enhances the formulation and API stability in transdermal delivery systems. Recommended topical usage levels of...
Baby skin
Baby skin has a delicate and fragile structure which easily becomes dry or irritated due to urine contact, laundry detergent residues and central heating and air conditioning. Formulating for baby skin requires mild, effective moisturising ingredients and a dosage form that is quick and easy to apply or use in the bath.
Our star excipeint: Arlamol™ PS11E (Polyoxypropylene Stearyl Ether PhEur)
Excellent polar solvent for a wide range of actives
Non-occlusive emollient offering a velvety skin feel
Enables compatibility of polar and non-polar oils, making it possible to couple two actives into one product
Produces liquid crystal oleosomes when used with Brij S2, Brij S721 and Crodacol CS90. Oleosome systems enable longer lasting skin hydration, pH flexibility, and increased salt tolerance and stability.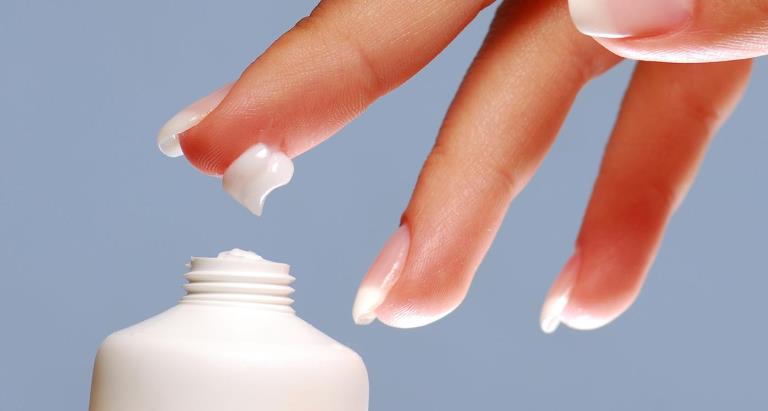 Polar non-occlusive emollient that acts as an excellent solvent for a wide range of actives and as a coupling agent, allowing the compatibility of polar and non-polar oils. Excellent spreader and...
Super Refined™ excipients
Super Refined excipients are stripped of a number of oxidative impurities, such as peroxides, aldehydes, and catalyst residues. The removal of these problematic species helps to reduce negative API & excipient interactions, maintaining both the stability of the drug and the final formulation. In addition, the removal of these impurities can minimise cellular irritation, reduce taste impact, and potentially decrease allergenicity.

We have a large variety of products, ranging from various polysorbates, polyethylene glycols (PEG), esters, vegetable oils, and more.
Tell me more