World Vaccine Congress Washington DC 2023
Learn how we can help you formulate and innovate!
Join our team as we exhibit and present at World Vaccine Congress USA in Washington DC. We invite you to visit us at booth #901 to say hello.
What, where, and when?
What

: World Vaccine Congress Washington DC

Where

: Walter E. Washington Convention Center

,

booth #901

When

: 3 - 6 April 2023
This is a LIVE IN-PERSON EVENT.
Book a meeting with our experts here

Addressing the challenges of vaccine formulation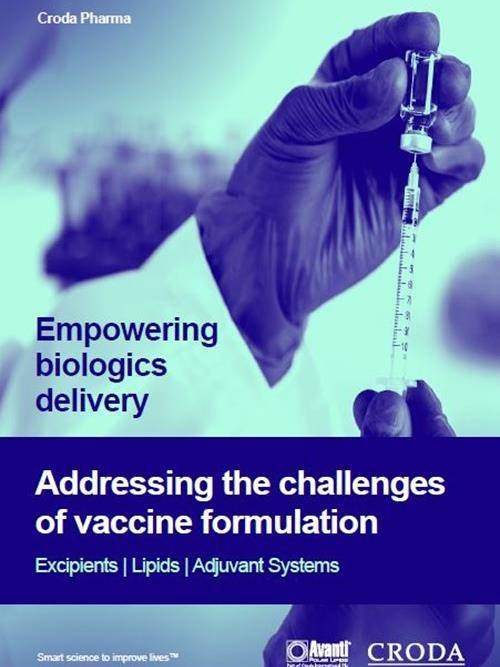 Discover more about our strategic partnerships with industry leaders
On Wednesday 5 April at 16:40, Dr. Dennis Christensen will host a presentation titled Ensuring clinical availability of vaccine delivery systems, immunostimulators & combined adjuvant systems. See the full agenda here


Learn with Dr. Dennis Christensen
• The importance of having vaccine delivery systems, immunostimulators and combined adjuvants without risk of supply
• The industry manufacturing challenges while under demand stress due to a global pandemic
• The need for commercial availability of novel vaccine delivery systems, immunostimulators and combined adjuvant systems.
Request a meeting here
How can we hep you with your vaccine research and projects?
Visit our scientists and industry experts at the booth, to discuss our solutions, including Adjuvant Systems, innovative GMP lipids and high purity excipients from Croda Pharma and Avanti Polar Lipids.
Learn about our...
High purity excipient portfolio
Bioprocessing solutions
The Virodex™ product range: efficient and sustainable alternatives to Triton™ X-100
Collaboration and partnership opportunities
With our range of highly purified excipients, we empower biologics delivery through innovation, formulation, and application.
We leverage our expertise in biotechnology to provide cutting-edge solutions for the bioprocessing of protein and nucleic acid-based therapies. With our portfolio of high purity chemicals, we provide solutions for stages spanning from upstream to downstream bioprocessing, enabling efficient and effective production of biologic drugs.
Let's talk! Our Croda Pharma representatives can help guide you in the right direction.
Book a meeting with our experts below