International Human Solidarity Day
International Human Solidarity Day
is marked on the 20th December by the United Nations (UN) and its member states. This day gives the opportunity to celebrate our unity in diversity, raise awareness of the importance of solidarity and promote solidarity to achieve the UN Sustainable Development Goals (SDGs). As part of Croda's commitment to being Climate, Land and People Positive by 2030 we have developed targets linked to the UN SDGs. This blog post will focus on our People Positive commitment.
We sat down with our Diversity and Inclusion Manager, Christopher Bannister-Bailey to learn more about both celebrating our diversity and highlighting the importance of solidarity in the workplace.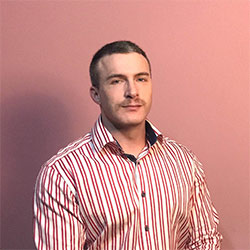 Hi Christopher, could you start off with telling us a little bit about yourself?

Of course, hello, I am Christopher Bannister-Bailey, or CBB. I have been at Croda for a little over 17 years, and came here as a graduate after studying Chemistry at University.
I have the great privilege of working within the Group HR function to help guide and support the organisation's drive to reach our Commitments as a Purpose-led organisation, specifically focussed on inclusion. I see it as my mission to help ensure all employees can have a successful and rewarding career, no matter who or where they are in the world.
Did you always want to work within the diversity and inclusion area? What inspired you to go down this path?


There's something really monumental about the time we live in, that has created such an opportunity to work in this space. When I first started work, or when I was thinking about career options, I never had imagined that I could combine my passions for equality and justice for all with a role in an organisation.
The workplace can be a very difficult experience for individuals and groups of people, either through systemic discrimination that make it harder for people to get into work or succeed, or biases that unintentionally keep people out.

I can be pretty outspoken outside of work about injustice in the world, and particularly for LGBTQ rights, so being able to apply this in a strategic way to help all my colleagues, whoever they are, feel respected, included, and valued is very fulfilling. It's important work.

When we first discussed the idea of a project to embed diversity and inclusion, I took time to think about the value I could bring to the role, I'm a great communicator, visionary and revel in strategy. From my own experiences, some of which I have shared through our internal social channels since taking the role, I recognised that the true value I could bring was a voice to those around the business who may sometimes feel less than, or that feel they cannot be their true selves.
What does diversity mean to you, and why is diversity at Croda important?
Every human has a story, an experience, a way of being. We are all different. In this world, difference can be used to diminish or keep people out. For a world to truly be the best place it can be, we really do have to all work together, respect each other, in order to truly bring change and sustainable innovation to the world. That's no different at Croda. For our business to help improve lives with our smart science, we know that increasing diversity and the groups of people represented is an imperative, both as it's the right thing to do, but will lead to greater creativity.
International solidarity day raises public awareness of solidarity. What does solidarity mean to you and why is it so important?
We have three values that guide us, Responsible, Innovative and Together. When we were building the values and their definitions, I very much felt that to be truly inclusive, and to truly help all people thrive, the Together value must signify a recognition that, when we work together, we can achieve more.

This is solidarity in action, for me. When we unite under one cause, we are stronger and can produce an even more impactful outcome. When we divide ourselves, or shy away from supporting a group, out of fear, ignorance, or just a lack of drive, we rid ourselves of an opportunity to truly improve lives in some way, either big or small.

I see solidarity, and the UNs focus on this, as a way to acknowledge that the issues we face in society can only truly be overcome when we collaborate for the greater good of all. Which is exactly the philosophy that shines through from our values, Responsible, Innovative, Together.