Croda Pharma welcomes Dave Cherry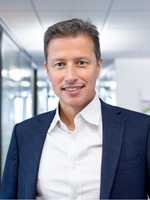 We warmly welcome Dave Cherry as our new Global Managing Director. Dave brings with him past experiences from his work with the wider Life Sciences Leadership Team and healthcare markets, which is invaluable to us as we continue with significant expansions and innovation in the pharmaceutical market.

Read Dave's welcoming introduction upon starting his new position within the Pharma team:

"I am really excited to be joining such a strong team, one that is already making such a difference to the health and well being of people around the world, and which has the ambition and potential to do so much more. Playing a vital role in so many of our customers clinical trials, including for cancer and COVID-19, is a great opportunity and responsibility, and one we fully embrace. I look forward to connecting further with colleagues and customers over the coming months."

Dave joined Croda in 1994 on the graduate scheme, having graduated with both a degree and PhD in Organic Chemistry from Oxford University. Dave has progressed throughout the business, excelling in various sectors throughout Croda. Dave started out initially in Polymer Additives, having ran this from 2003 to 2007 before moving over to Health Care until 2017, where Dave moved on to manage our Crop Care business.
Croda Pharma is a leading partner for the development of excipients and the supply of high purity materials for pharmaceutical formulations. The company is focused on empowering biologics drug delivery, through its adjuvant systems, small molecule, protein, and nucleic acid delivery platforms. With a wide range of solutions for both human and animal health markets, the pharmaceutical portfolio is unsurpassed in its excellence. Croda Pharma's products, along with its in-house formulation and regulatory expertise, allows the company to meet its customers' most demanding formulation needs. The company is committed to enabling the next generation of drug delivery systems.
View our recent news and blogs here: