Consumer Health at Croda Pharma - over 100 years of heritage
For the Consumer Health team, our main goal is to help our customers market consumer relevant claims that grow their product and brand authority. As an innovative ingredient partner, we support and solve your formulation challenges. We combine our formulation expertise with regulatory knowledge to help our customers market products and strive to meet adapting consumer needs and market trends.
Super Refined™ solutions for transdermal delivery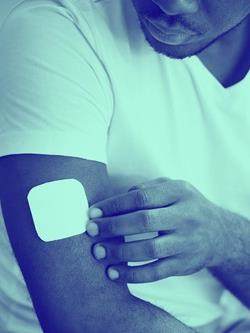 The growing OTC market
The Consumer Health market is growing rapidly, with self-medication via over-the-counter (OTC) medicines increasing sharply within recent decades. There is a global prevalence of self-medication, moving patients towards greater independence, making decisions about the management of minor illnesses, and empowering them. Factors such as education, and economic and time pressures, are influencing these decisions, alongside greater accessibility through pharmacies, supermarkets, and online retailers.

In the consumer healthcare space, patients demand additional aesthetic and sensorial benefits from their products; feel, texture and appearance, alongside exceptional functional performance to deliver symptom relief. Sensorial experience can significantly influence user perception of a product. Format and formulation type are also important drivers of product differentiation, providing choice and often influencing selection. All these factors play a key role in building confidence, loyalty, and trust in a brand.
Customer collaboration in Consumer Health and how we can work together
We aim to support your innovation, providing technical support and troubleshooting. If you are looking to achieve new claims data, we often work in partnership to do that. We are also working to make our processes and materials more sustainable, aligned to the core Croda values, aiming to be Climate, Land and People positive by 2030, and the most sustainable supplier of innovative ingredients.
In the case of prescription to OTC switches and changes requiring you to overcome further regulatory changes, further data and support may be required. Our regulatory specialists take active roles in key industry bodies including the European and United States Pharmacopoeia, EXCiPACT™ and IPEC.
Further, we're proud to offer one of the broadest surfactant ranges, amongst other excipients with exceptional purity for unstable formulations. Our unique combination of excipients and extensive formulation development expertise can help you optimise performance and achieve the best result from your products.
Our global spread of research and development facilities offers peace of mind and reliability of supply along with decades of formulation experience.
Together we can work in partnership to unlock more product formats, features and benefits with our exceptional product range!
What's new for Consumer Health?
We have recently opened a new manufacturing plant within our facilities in Campinas, Brazil, this is one example of how we are continually striving to deliver excellent customer experience, through not only agility within the supply chain, but also providing local commercial and technical support. The addition of sustainability to our product portfolio is also a huge benefit, the site investment hosts a novel boiler which will reduce carbon emissions (-23%) in alignment with Science Based Targets.
To summarise, we offer a wide range of high purity excipients across multiple drug delivery routes and applications. From excipient solutions for cannabinoids (CBD), to high purity excipients for softgel oral drug delivery, transdermal drug delivery systems, omega 3 high concentrate fish oils and ophthalmic formulations. We are passionate about helping our customers to make great products with our excipients.
Talk to us about your formulation challenges today!