Lipids for Nucleic Acid Delivery
Innovative technologies for Nucleic Acid Delivery
Croda Pharma is an industry leader in lipids, high purity excipients and vaccine adjuvants.

We are enabling the delivery of nucleic acid based therapeutics, through our range of drug delivery technologies.

The lipid technology segment of the Croda Pharma business, Avanti Polar Lipids, develops and manufactures innovative lipids of unparalleled purity to solve the stability and delivery issues associated with mRNA for use in vaccines and next-generation therapeutics.
Our GMP lipids

With nearly 100 years' experience of formulating lipids, we offer a wide range of lipids and lipid derivatives to meet the innovation needs of our customers from research and discovery through clinical trials and to commercialization.
The portfolio of GMP lipids used in nucleic acid delivery includes phospholipids, sterols, PEGylated lipids and cationic lipids. Each lipid component plays a crucial role in the nucleic acid delivery system.

Phosphatidylcholines (PCs), also referred to as neutral lipids, form the exterior layer of the delivery system. DSPC is the most common PC derivative used in lipid nanoparticles (LNP) due to its high transition temperature (55C) which allows it to prevent the premature breakdown of the LNP in biological systems.
Sterols, primarily cholesterol, help fill the gaps between phospholipids in the exterior layer of LNPs and play a role in maintaining membrane fluidity. Sterols also aid the overall stability and transfection ability of the LNP delivery system.
PEGylated lipids allow increased circulation times of LNP delivery systems due to their ability to circumvent systemic clearance.
Cationic lipids are used to complex negatively charged nucleic acid cargo and make up the centre of a LNP delivery system.
Several of these products are manufactured under the current guidelines of Good Manufacturing Practice and are available for pharmaceutical use. If you have a requirement for a lipid derivative not found on our list, please call us: custom synthesis is one of our specialties. The exact composition of your nucleic acid delivery system will depend on its therapeutic cargo, route of administration, and biological application.

Discuss your needs with one of our experts today! Contact us today to discuss our GMP lipids.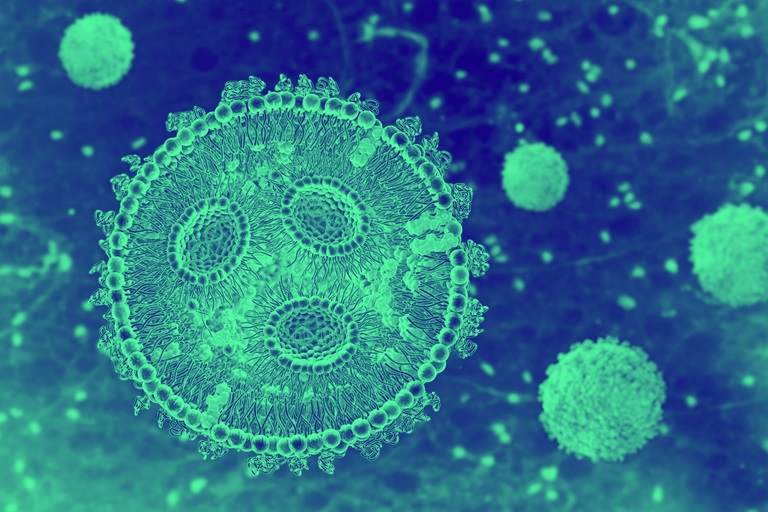 A history of enabling drug delivery research
Avanti Polar Lipids develops high-purity, polar lipids that are being used as delivery systems for complex therapeutic drugs and in next-generation mRNA vaccines, with highly specialised lipids used in Lipid Nanoparticle (LNP) delivery technology, with a vast portfolio of phospholipids, cationic lipids, PEG lipids and sterols
Contract manufacturing of proprietary lipids and a formulations division to develop custom lipid-based drug delivery systems for a range of pharmaceutical applications
Expertise on development and scale-up and manufacturing of lipids under cGMP
Download our supporting literature
Supporting Literature
Enter your contact details to receive supporting materials.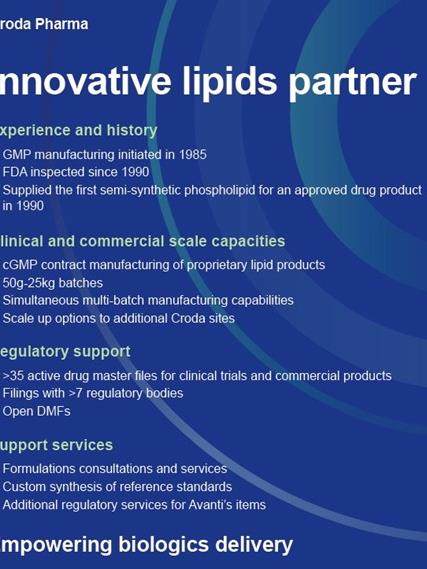 Catalogue: Your innovative lipids partner