Lipids from concept to commercial
Whatever your requirement our extensive portfolio can meet your needs, we offer both research grade materials and GMP grade lipids for your discovery, clinical and commercial manufacturing requirements. With over 250 years of combined experience Croda Pharma and Avanti Polar Lipids can provide you with an extensive portfolio of phospholipids, PEG lipids, cationic lipids, functionalized lipids, sterols and more. In addition to our GMP product offerings, we have extensive experience in custom lipid manufacturing and a unique, ever-growing research catalogue of over 2000 lipids to make your project a success.
Key applications for our technologies includes non-viral delivery applications such as lipid nanoparticles (LNPs), lipoplexes and cationic nano-emulsions.
GMP grade lipids for Nucleic Acid Delivery
Click here to explore our range of multivalent cationic lipids, ionizable lipids and fixed cationic lipids!

In LNP formulations, cationic ionizable lipids are used to complex negatively charged RNA. Aside from playing a major role in the LNP formulation itself, cationic lipids also serve a major role in the biological administration of RNA to target cells.
Cationic lipids are able to form aggregate complexes with anionic genetic materials such as DNA or RNA. When in aqueous solution these aggregated liposomal structures have a positive surface charge, mediating the interaction of RNA and the cell membrane. The positive charge of the liposome prevents the cell from distinguishing it from the cell membrane, enabling introduction of RNA to the cell.
Click here to check out our current offering of functionalised lipids!
Liposomes and lipid nanoparticles are commonly used drug delivery systems. In recent years, bioconjugation strategies focused on formulations using functionalised lipids to improve drug loading and targeting has been at the forefront for advancement of the field. Covalently linking drugs to PEGylated lipids containing disulfide, ester, carboxy, hydrazone, and other functional groups has been found to be a viable strategy to control drug loading and release. In addition, lipids functionalised with maleimide, NHS esters, DBCO, and others can be used enhance the lipid delivery system's ability to deliver drug payloads to the intended therapeutic target through bioconjugation of antibodies, aptamers, peptides, proteins, and enzymes.
Click here to explore our cGMP PEG offering!
Polyethylene glycol (PEG) lipids have historically been the polymer-lipid conjugate of choice for lipid nanoparticles (LNP) formulations. PEG lipids make up the exterior shell and have several key functions in LNPs including providing steric hindrance to prevent aggregation and promoting a small particle size. PEG lipids have also earned the title "stealth agents" due to the ability of LNPs formulated with PEGs to bypass the reticulo-endothelial clearance system and remain in systemic circulation.
Click here to explore our GMP phospholipids to improve your formulation development today!

Phospholipids are essential components of lipid nanoparticles (LNPs) following their long history of use in liposomal drug formulations. Phospholipids drive the formation of encapsulation, provide structure, and prevent the premature breakdown of LNPs. Recent studies have found that tuning the phospholipid component of an LNP can enhance delivery of nucleic acids by increasing endosomal escape in the case of phosphoethanolamine species; whereas, zwitterionic phospholipids may aid in the solubilization of nucleic acids inside the LNP.
Click here to view our offering of compendial, high purity and Super Refined™ polysorbates to suit your formulation needs!
Polysorbates are non-ionic surfactants and emulsifiers commonly used in the pharmaceutical industry to promote API absorption and prevent the formation of aggregates and precipitation. Polysorbates such as Tween are also commonly used to formulate lipid-based gene carriers. Playing a key role in these formulations as emulsifiers and stabilisers polysorbates also have an active role in the integration of DNA and therefore promote gene expression.
Click here to explore our range of sterols!
Sterols, like cholesterol, are a major component of LNPs, making up roughly 35-45% of the final formulation. In this application, the sterol works as a stability enhancer by filling gaps in the lipid layer and assists in the transfection of RNA. Structural analogs of cholesterol, such as β-sitosterol, can also be used to create LNPs with a comparable particle size (diameter ~100 nm) and encapsulation efficiency (~95% using 200 ng mRNA) as cholesterol. β-sitosterol-substituted LNPs have been found to improve transfection efficiency when compared to cholesterol containing LNPs. Comparable size and encapsulation efficiency, coupled with markedly improved transfection efficiency makes β-sitosterol an intriguing alternative to cholesterol in future RNA-LNPs.
Clinical and commercial lipids
Our Contract Development and Manufacturing Organisation can take your proprietary lipid from conceptualisation right through to commercialisation and each phase in between directly paralleling your drug development needs. Services include delivery of feasibility material, engineering material suitable for tox studies, and early clinical material. As clinical trials progress, Croda Pharma's worldwide manufacturing locations offer options for large scale commercial production.
In addition to our CDMO manufacturing we have a team of synthetic chemists ready to manufacture and deliver custom research products to make your project a success including custom synthesis of reference standards or impurities. With over 150 years of combined lipid synthesis experience, our team can solve most synthesis problems and deliver custom lipids with Avanti's signature quality. Please contact our synthesis team at customsynthesis@avantilipids.com to discuss the amazing things we can do for you.
The Avanti Formulations team offers custom formulation development including nanoparticle, cargo-loaded, surface-labelled, PEGylated, and fluorescent lipid formulations or custom lipid blends for use in diagnostic or delivery applications. Supporting this we have a wide range of capabilities including High Potency Active Pharmaceutical Ingredients handling, lyophilisation, homogenisation, extrusion and solvent injection.
We offer full support along the development path from the R&D stage to the clinical and commercial stages.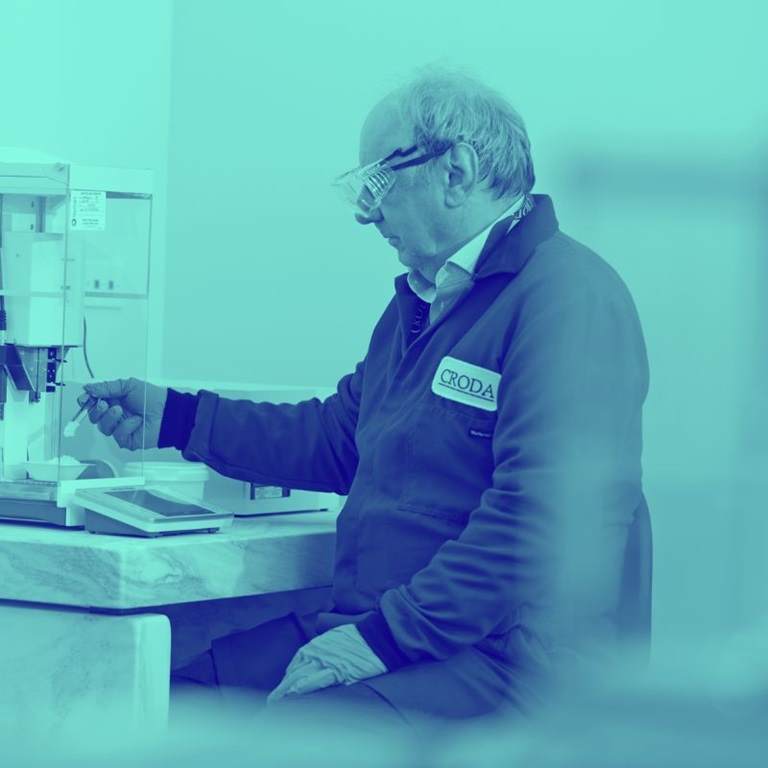 Smart science to improve lives™
Seu parceiro de soluções farmacêuticas:
Excipientes de alta pureza: Otimizando a performance de formulações para solucionar problemas relacionados a estabilidade e solubilidade
Adjuvantes de vacinas: Comprometidos com os mais altos padrões de qualidade, com mais de 80 anos de experiência em pesquisa e desenvolvimento de adjuvantes
Lipídios inovadores: Permitindo a entrega e estabilidade de vacinas baseadas em ácido nucleico e tecnologias terapêuticas e de edição genética.
Estamos determinados a impulsionar a próxima geração de Drug Delivery Systems. Ao se associar à Croda Pharma, você contará com uma equipe altamente preparada para atender às demandas mais requisitadas da indústria farmacêutica.