Promising new results for metastatic prostate cancer vaccine

This is an interactive article, simply click the underlined words for more information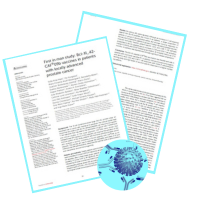 A new study1 published in Frontiers in Immunology reports promising vaccine results for patients with hormone-sensitive prostate cancer. The researchers demonstrated that a vaccine formulation containing the novel adjuvant CAF®09b and a Bcl-XL-peptide was able to elicit potent CD4+ and CD8+ T-cell responses. The team believes these findings can have an influential impact on the future of prostate cancer treatment. Dennis Christensen, Croda's Head of Global R&D, says that the "data shows that CAF®09b is a promising adjuvant for antigen-specific cancer immunotherapies".
Globally, prostate cancer (PC) ranks as the second most diagnosed cancer and the fifth primary cause of cancer-related mortality in men. Current treatment options for metastatic disease are limited, and the prognosis is poor where androgen deprivation therapies fail. Thus, new therapies are desperately needed.
Cancer immunotherapy
Tremendous progress has been made in the field of cancer immunotherapy, with investigations underway for their efficacy in a variety of cancer types. Therapeutic vaccines that amplify tumour-specific T-cell responses through immunisation are of particular interest. Tumour-specific and tumour-associated antigens (TAA) are found to be expressed in high numbers in PC. Moreover, PC patients often have T-cells specific for certain prostate-specific antigens in their peripheral blood, indicating the potential for therapeutic vaccines to support PC-specific T-cell immunity.

Although TAA can be found in healthy cells, they are generally elevated in cancer. Thus, they make useful targets and peptide-based vaccines capitalise on that: they typically consist of a TAA-derived amino acid sequence.

Peptide cancer vaccines require the presence of CD8+ and CD4+ epitopes to activate cytotoxic T-cells (CTLs) for effective anti-tumour immunity. Moreover, activation of T-helper cells is necessary to sustain the CTLs effector function.
Bcl-XL overexpression in prostate cancer
Researchers investigated Bcl-XL, an anti-apoptotic protein overexpressed in PC. Increased Bcl-XL expression has been associated with less responsiveness to chemotherapy and a poorer prognosis. Pre-clinical studies have demonstrated that cancer patients can have a naturally occurring T-cell response against epitopes derived from the Bcl-XL protein. These T-cells can even directly kill cancer cells that overexpress Bcl-XL. Research has demonstrated that suppressing Bcl-XL facilitates apoptosis, therefore sensitising the cancerous cells to chemotherapy and radiotherapy. Conversely, increased levels of Bcl-XL expression can lead to multi-drug resistance.
The Bcl-XL-peptide-CAF09b vaccination
For this vaccine formulation, the Bcl-XL_42 peptide was used, which contains 42 amino acids. Such longer peptides can induce more robust and diverse immune responses since they cannot directly bind to major histocompatibility complex I (MHC-I) and must be processed by antigen-presenting cells (APCs.) In turn, this helps stimulate both CD4+ and CD8+ T-cells.
The researchers administered the Bcl-XL_42 peptide into CAF09b, a novel liposomal vaccine adjuvant. CAF09b is comprised of lipid surfactants (DDA and MMG) and the TLR3 agonist poly(I:C).
Pre-clinical models have demonstrated CAF09b's superior capacity to shift the immune response towards a type I/CD8+ T-cell response. CAF09b increases the uptake of peptides by APCs, activating them to stimulate cross-presentation and proinflammatory signalling that can therefore activate vaccine-specific CD4+ and CD8+ T-cells.
The study
For this investigation, the scientists looked at 20 adult patients with hormone-sensitive PC that were scheduled to begin hormone therapy. The team split the patients into two groups: Group A and B. Group A received three vaccines via intramuscular injection (IM,) and then intraperitoneal injection (IP.) Group B received the vaccines in reverse order. The vaccine-induced immune responses were then analysed using Enzyme-Linked Immunospot and flow cytometry.

Overall, the vaccine was shown to be safe and tolerable. The most common side effects were fatigue and mild pain at the injection site. Fatigue may also be explained by concomitant bicalutamide treatment – commonly used for metastatic prostate cancer.

ELISPOT analyses showed significant Bcl-XL_42 specific T-cell responses for both groups. Nevertheless, patients had stronger and earlier immune responses after IP injection than after IM injection, supporting suggestions that this administration route could lead to better antigen presentation leading to a CD8+ T-cell response. Furthermore, the researchers illustrated an increase in T-cell activation markers CD107a and CD137.
Closing remarks
Ultimately, these findings showed that the Bcl-XL-peptide-CAF09b vaccination is both safe and feasible for patients with hormone-sensitive PC. The vaccine carries the capacity to elicit CD4+ and CD8+ T-cell responses, with IP administration demonstrating greater potency.
"The data shows that CAF09b is a promising adjuvant for antigen-specific cancer immunotherapies and that it can be made available by contacting Croda"
Croda has entered an exclusive partnership with Statens Serum Institut, enabling you to access these patented formulations for your development needs.

If you'd like to implement CAF09b in your own vaccine formulations or research studies, feel free to reach out to one of our representatives today.