Oral
The development of oral drugs presents several challenges, including low solubility, instability of the formulation and ineffective delivery of the API. The selection of the correct oral excipient during the initial stage of development is a critical step in achieving the success of the formulation.
Our oral drug delivery solutions:
Capsule size reduction – easy to swallow
Improved solubility and stability – make your formulations better
Better taste profile – great for twist off formulations
From solid to liquid – unlock novel formats.
Explore our SEDDS and SMEDDS
We have undertaken some taste profiling data comparing compendial grades to Super Refined™ grades. What we can see here is that there is a significant degree of difference in taste for all these products.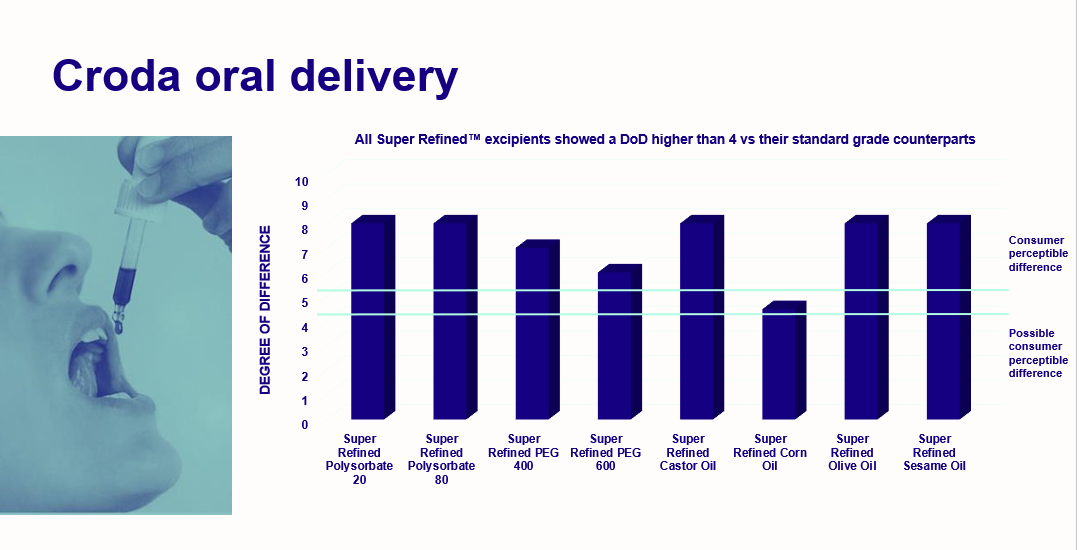 Auricular, ophthalmic and nasal

Developing drugs to be delivered through the ophthalmic, auricular, and nasal routes requires focus on essential factors, such as drug stability and endotoxin levels, which can impact the success of the formulation.
Topical
Our extensive experience in skin science has led to the development of innovative ingredients that enhance the efficacy and patient perception of topical pharmaceuticals. Our topical excipients include drug delivery systems, skin penetration enhancers, solubilisers, emulsifiers and emollients. View penetration enhancers.
Rectal and vaginal

Rectal and vaginal administration routes are used for local as well as systemic drug delivery and can offer some unique advantages. The rectal and vaginal routes belong to the transmucosal routes of drug delivery and thus offer the advantage of bypassing first-pass metabolism. They both have a use in systemic drug delivery when the oral route is not available, or where the drug under consideration is not well suited for oral administration, however these are relatively less popular due to their anogenital nature and privacy aspects.
Pharmaceutical excipients for ophthalmic formulations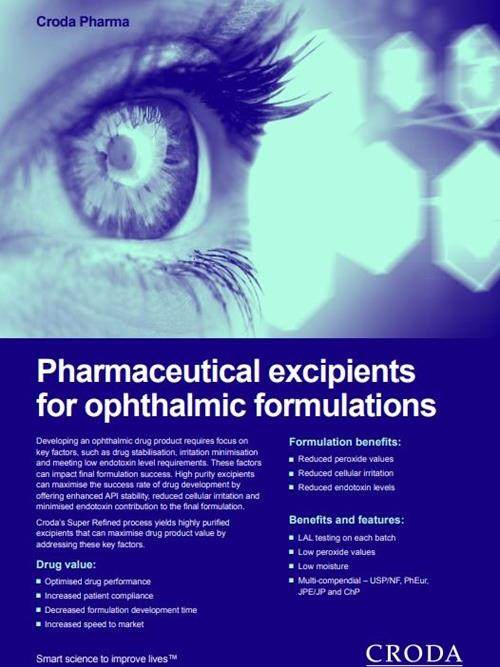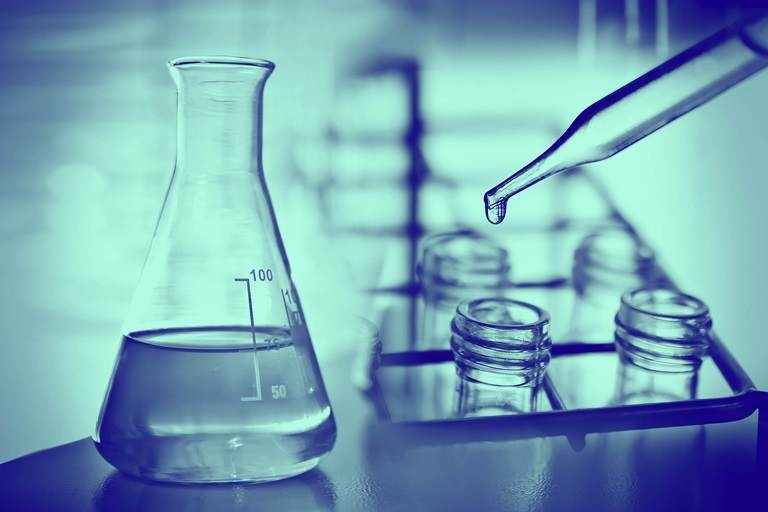 Super Refined™ excipients
Our range of Super Refined™ excipients are manufactured using a proprietary process, in which impurities are removed, to maximise the drug product value. They have been specially designed to enhance the stability, solubility and delivery of APIs through the rectal and vaginal administration routes.
Our excipient portfolio includes: solubilisers, emulsifiers, emollients, stability enhancers, viscosity modifiers and suppository bases.
View