Introducing our Nucleic Acid Delivery platform
This post introduces our Nucleic Acid Delivery platform, a technology area that was strengthened through our acquisition of Avanti Polar Lipids in 2020. Celebrating almost 3 years of Croda Pharma and Avanti Polar Lipids, this blog post explores recent successes in nucleic acid delivery and what is available from Croda Pharma for continued growth in this space.

Avanti Polar Lipids specialises in lipid technology, developing and manufacturing innovative lipids to solve the stability and delivery issues associated with mRNA for use in vaccines and next-generation therapeutics.

Your innovative lipids partner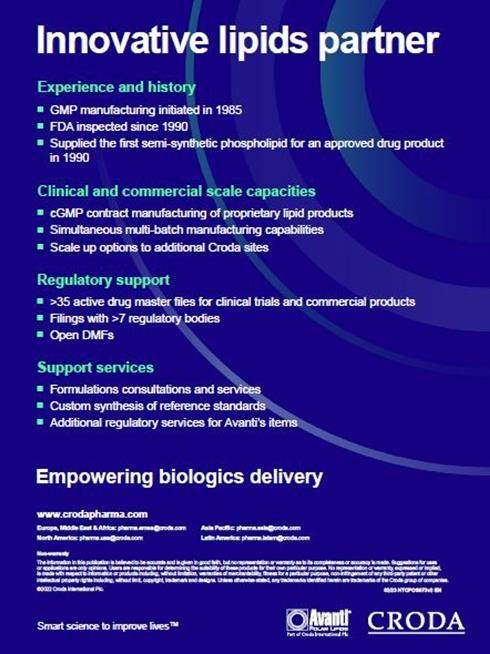 Nucleic Acid-based therapies and their benefits
Nucleic acids are the building blocks of the genetic code, and their primary role is to store and process genetic material within biological systems. They fall within two main categories: deoxyribonucleic acids (DNA) and ribonucleic acids (RNA) (1). Nucleic acids have long held the potential to revolutionise healthcare and treat infectious diseases, protein and gene deficiencies and even certain cancers through gene silencing, editing or replacement. Unlike many current conventional treatments, nucleic acids have the potential to produce curative or long-lasting effects through targeting the underlying cause of disease (2).
The ability of nucleic acids to treat infectious diseases was exemplified by the response of Croda and Avanti to the Covid-19 pandemic and all that we achieved.
Lipids in the Covid-19 response – how Croda and Avanti came together
A post featuring Croda Pharma and Avanti's achievements wouldn't be complete without mentioning how our companies came together to deliver the impossible. During the pandemic of 2020, it became clear that the combination of Avanti's lipid expertise and Croda's manufacturing and scale-up capability could enable a faster response to the Covid-19 pandemic.

Leveraging this, and scaling at unprecedented speed, we became the first company to supply the essential lipid ingredients for a Covid-19 vaccine at scale, globally.
During the early months of the pandemic, four key excipients we're needed to enable delivery of one of the first major vaccines. These four ingredients needed to be rapidly scaled up to enable our client to move as quickly as they could in the fight against Covid-19. One of the major challenges was Avanti's capability to only manufacture at scale three of the four major excipients for a key vaccine. This is where a key Croda site was identified as a potential scale-up manufacturing facility for the fourth significant excipient. Stepping up to the challenge to provide this life saving vaccine, both sites worked around the clock and delivered a project of a 2-year scale in just 6 months. To us, this highlighted the power of collaboration and what we can achieve together, underpinning Croda's purpose of using Smart science to improve livesTM.
The opportunity to supply excipients for a Covid-19 vaccine has been hailed as the "proudest moment" of our CEO Steve Foots' career. A sentiment that is echoed by many colleagues at Croda and Avanti who joined together in the fight against Covid-19. This effort also resulted in our nomination as finalists for the CPhI Pharma Awards 2022 for 'Innovation in response to Covid-19' and being awarded 'Best Supplier for COVID-19 Vaccine Development 2022' at the India Biologics & Vaccines Outstanding Industry Awards (BVOIA) 2022. We were also a recipient of the American Chemical Council's Sustainability Leadership Award for Societal Contribution. This was awarded to Croda for Avanti's work on Lipid Nanoparticle Technology that facilitated the clinical development and deployment of a Covid-19 vaccine. Lastly, the Avanti site was also recognized as a finalist for Alabama Manufacturer of the Year.
Citations:
Buckley, G. (2021) Nucleic acid - definition, function and examples, Biology Dictionary. Available at: https://biologydictionary.net/nucleic-acid/ (Accessed: November 15, 2022).
Kulkarni, J.A. et al. (2021) "The current landscape of Nucleic acid therapeutics," Nature Nanotechnology, 16(6), pp. 630–643. Available at: https://doi.org/10.1038/s41565-021-00898-0.